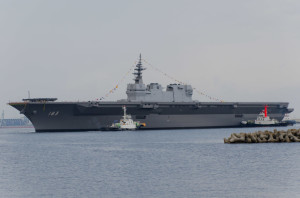 Japan this week unveiled its biggest naval vessel since the end of World War II, the 20,000-ton helicopter-carrying destroyer Izumo. The event did not go unnoticed by Japan's neighbors, especially China, as circumstances surrounding the launch of the warship were bound to trigger thoughts about the two unhappy history of the East Asian region in the first half of the 20th century.
Not only was the huge destroyer shown off to the public on August 6, the 68th anniversary of the atomic bomb over Hiroshima. The name itself was also an echo from the past, albeit of a more subtle kind. Izumo was also the name of the Japanese flagship moored in the Huangpu River during the battle of Shanghai in the fall of 1937.
Built in Newcastle upon Tyne and handed to the Japanese Navy in September 1900, the original Izumo, a cruiser, had played a key role in Japan's rise to great power status, but by the time of the war with China in 1937, it was already an aging vessel. Even so, it had a decisive impact on the fighting in the streets of Shanghai as its incessant shelling of the Chinese troops helped relieve a beleaguered garrison of Japanese Marines onshore.
Chinese media immediately pointed out the history of the first Izumo, suggesting that the launch of a new vessel of the same name was a worrying harbinger of a more militarist Japan emerging. It is an aircraft carrier, and Japan just called it a helicopter destroyer to downplay its aggressive nature," a researcher at a Chinese military think tank told the state-run China Daily newspaper.