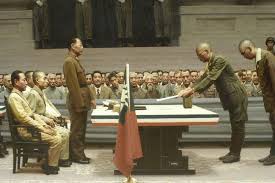 "Gongxi, gongxi" – "Congratulations, congratulations." That's the name of a tune that will be played over and over again in the coming days as Chinese all across the world celebrate the Lunar New Year. Its association with the festival is as close as the one between "Silent Night" and Christmas in the west. What is not widely known is the fact that originally it was written to celebrate the end of the Sino-Japanese War in 1945. Listen to an early version below.
It was written by Chen Gexin, born 1914 in Shanghai into a wealthy family. When war approached, he was a music teacher and like many others of his generation, an avid supporter of the patriotic cause of defending China against Japanese aggression. From 1937 to 1941, he escaped Japanese persecution by staying in the international section of Shanghai, where Japan had no special privileges to crack down on critics.
That all changed after the outbreak of the Pacific War in December 1941. The Japanese military moved into the non-Chinese part of Shanghai, and started making arrests. Among those detained was Chen, who spent three awful months in a Japanese jail and reportedly was subjected to torture.
Once he was released back into society in early 1942, complicated years were ahead. It appears that he also worked for the Japanese, perhaps forced to do so by the severe material conditions brought about by war. He reportedly wrote a song praising the Greater East Asian community under Japanese leadership, and as late as spring 1945 he allegedly penned a tune hailing Japan's Kamikaze pilots. The Second World War was a complex time, with many shades of gray, in China as much as elsewhere.