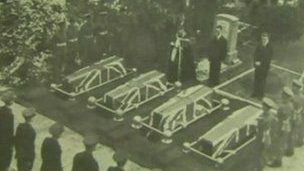 For years Sarah Moran had tried to find out where her uncle was buried. She knew he had been killed in Shanghai during the Sino-Japanese battle in 1937, but she was not able to determine the exact location of his grave. Now her quest has come to an end. With the help of the British consulate in Shanghai and a British historian based in the city, the final resting place of her uncle, Patric McGowan, has come to light.
McGowan and three other soldiers of the Royal Ulster Rifles were guarding Shanghai's International Settlement in the fall of 1937 as the ferocious battle between Chinese and Japanese armies raged all around them. McGowan was killed by a Japanese airplane on October 24, and the three others by a shell, probably also Japanese, five days later. They were laid to rest on November 1.
A war and a civil war rolled over Shanghai, followed by decades of communist rule and international isolation. For the relatives of the four soldiers, it seemed almost impossible that their graves could ever be found again.
But Sarah Moran refused to give up, even after Chinese authorities insisted that her uncle's grave had disappeared. Finally, as described on this website in September, she wrote a letter to Prime Minister David Cameron asking for his help. According to the BBC, this made all the difference, and British consular personnel were instrumental in finally locating the grave at the city's Song Qingling Cemetery.
The investigation wasn't made any easier by the fact that McGowan's original tombstone had vanished — probably smashed to pieces during China's Cultural Revolution — and then replaced with another stone misspelling his name as McCowan.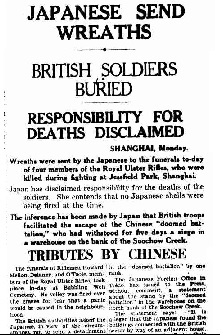 But all that is in the past now. This week, the four dead soldiers were saluted once more. "HMS Daring was on a visit to Shanghai," the BBC reported, "and Rear Adm Matthew Parr, accompanied by Capt Rupert Hollins, paid their respects by laying flowers at the gravestones."
And for the old soldier's niece, there was finally closure. "It was important to honor his memory," Moran told the Belfast Telegraph. "I'm delighted to hear that they laid a wreath and held a gun salute at the site. It would be lovely to travel out there and see the site and the stone."